Introduction to CMMI for Services v1.3
OFFICIAL CMMI INSTITUTE CLASS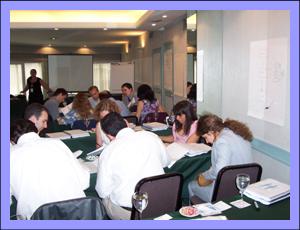 COURSE DESCRIPTION
If you want to learn how to ensure the effective delivery of services, this course is for you. This three-day course introduces you to the CMMI for Services (CMMI-SVC) model, which is a comprehensive set of guidelines that helps organizations to establish and improve processes for delivering services. The course provides the knowledge you need to begin using CMMI-SVC in your organization. This course is a prerequisite for any certification or subsequent course that calls for an Introduction to CMMI requirement.
CMMI-SVC adapts and extends proven standards and best practices to reflect the unique challenges faced in service industries. This set of guidelines also serves as a practical framework for achieving superior service quality, controlling costs, improving schedule performance, and ensuring high levels of customer satisfaction.
The course is highly interactive and composed of exercises, discussion, and presentations. After attending the course, you will be able to describe the CMMI-SVC model, apply the model's process areas, and locate information in the model.
INSTRUCTOR
Lic Viviana Rubinstein
President and CEO, Liveware Inc.
Certified High Maturity SCAMPI Lead Appraiser + Certified CMMI Instructor + Certified Scrum Master
SUCCESSFUL COURSE COMPLETION
Successful completion of this course requires that participants actively participate in classroom discussions and exercises all three days, not missing any classroom time.
WHO SHOULD ATTEND?
Service providers and customers
Process improvement practitioners and champions
Appraisal team members
Instructors and lead appraisers
Professionals interested in service management concepts
TOPICS
Introduction
Why Model-Based Process Improvement Aids Service Excellence
Overview of CMMI-SVC
Defining, Establishing, and Delivering Service
Monitoring and Controlling Service and Work Products
Ensuring Service Mission Success
Sustaining Improvement
Making Work Processes Explicit and Measurable
Managing Decisions, Suppliers, and Standard Services
Creating a Culture to Sustain Service Excellence
Planning Your Next Steps
OBJECTIVES
This course enables you to
determine whether CMMI-SVC applies to your business context
learn effective practices for defining, establishing, and managing service
sustain your improvement
prepare for next steps, such as an appraisal or certification
PREREQUISITES
There are no prerequisites for this course.
MATERIALS
On the first day of the course, participants will receive a copy of the CMMI for Services model and a course notebook with copies of the course slides.
CLASS SCHEDULE
This 3-day course meets at the following times:
Days 1-3, 8:30 a.m. – 6:30 p.m.